Three technologies are mainly used in the application of 3D printing digital dental 3D printer - SLA, DLP and LCD
2022-01-12
Why LCD dental 3D printer?

At present, three technologies SLA, DLP and LCD are mainly used in dental 3D printing applications. These three technologies have different characteristics:
SLA, DLP and LCD, among the three 3D printing and molding technologies, LCD and DLP are the most widely used in dentistry. A series of products can be made from orthodontics to repair, from guide plate to casting. Among them, DLP technology can achieve higher accuracy comparable to SLA technology when the forming size is small, but after enlarging the forming size, the accuracy will be reduced or the cost will rise sharply. Because of its unique technology, LCD technology can meet the needs of high precision and large size at the same time, and has an absolute advantage in small batch production.

In terms of imaging technology and hardware, the core component of DLP technology is DLP chip, which is a high-precision component and has been monopolized for a long time, and its image distortion correction algorithm is only in the hands of a few manufacturers, so the equipment cost is relatively high. The core component of LCD technology is general LCD screen, which has relatively low cost, less image distortion and good consistency. With the general commercialization of 2K, 4K or even 8K resolution LCD screens, under the same accuracy, the forming area of LCD equipment can be 2.8 times that of DLP equipment, and the cost is less than 50%. Therefore, LCD 3D printing products are more suitable for the digital small batch production and manufacturing of technicians and outpatients.

Why choose the pionext3d dj-89?

At present, there are many low-cost LCD 3D printing devices on the market, which can be used to print animation models or jewelry, but are they suitable for making digital dental products? Our answer is - not suitable. This kind of low-cost equipment is usually assembled with general LCD components, combined with cheap screw rods and light sources. Although it can image, the accuracy can not be guaranteed, let alone stable production.

Based on the current market situation and the professional dental market, let's introduce dj-89, a special dental LCD 3D printer printing product of pionext brand from several aspects

Forming size

The molding size of pionext dj-89 is 192 * 120 * 100mm. Such a large size can be tiled and printed. 13 1 / 4 dental molds and 4-5 half mouth models can be printed at one time, while the printing time of one version only takes 1.5 hours, and the average manufacturing time of one model is only 15 minutes, which greatly improves the work efficiency.
Forming accuracy

As we all know, the forming accuracy of 3D printing equipment mainly depends on the hardware level, light source quality and material stability. In terms of structure, the key parts of pionext dj-89 use the products of international hardware manufacturers with high standards in the market, such as ball screw and guide rail. At the same time, high-strength hard alumina parts are also used in structural design, so they are impeccable in terms of product quality and structural stability.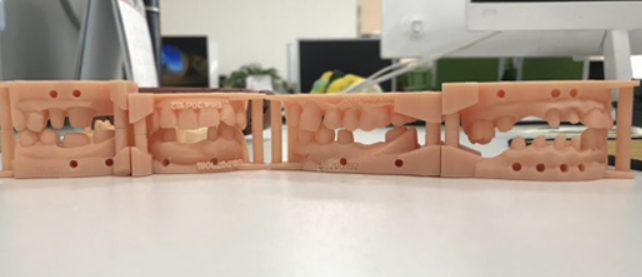 In terms of materials, pionext dj-89 is equipped with self-developed high-performance resin materials, including repair model materials, orthodontic model materials, guide plate materials, casting materials, etc. Whether in terms of accuracy, mechanical properties or matching with pionext dj-89 equipment, pionext's own consumables have excellent performance. At present, the pionext guide material has obtained the first-class certification of medical materials, and this material is also one of the few professional 3D printing guide materials that can be directly sterilized at high temperature and high pressure in the domestic market. Compared with the common resin materials on the market, pionext resin material adopts a relatively environmentally friendly formula, which has less pungent smell and will not cause physical discomfort for people who operate for a long time.

Fully automatic support function

Pionext dj-89 professional dental typesetting software is equipped with full-automatic support function, which can automatically support and generate data for models with complex shapes such as guide plate and casting. The automatically generated support is less, the planning is more reasonable and effective, and the residue after removal is relatively less, which effectively reduces the post-processing complexity of the model. At the same time, the software also provides a powerful support point editing function to avoid the problem that the support point cannot be seen when there are too many supports. Of course, the shape and position of the support can also be customized according to their own needs. This flexible operation mode can meet the needs of any editing mode.

Professional post-processing system

In order to better serve users, pionext dj-89 has launched a special supporting post-treatment system uv-02, including secondary curing box and ultrasonic cleaning machine. The model can be cleaned and solidified through professional post-treatment process. The curing box can be operated by one key, and adopts LED lamp group, surrounding design. The interior is equipped with high reflective film, with uniform light effect. It has a very good effect on the air drying treatment of alcohol on the overall surface of the model.
Recommended information