Why should you care about a dental 3d printer for 3d printed flexible denture implants?
2022-01-17
Why should you care about 3D printing of dental implants?
At present, there are good reasons why dental medical institutions need to pay attention to 3D printing of dental implants. With the 3D printing of dental implants, it will be possible to grow good teeth in a few days, which is very likely to be the second revolution in the dental industry.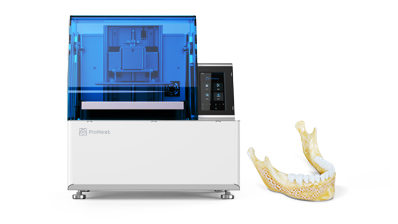 Traditional dental implant surgery requires waiting for about 3 months after tooth extraction, waiting for the patient's alveolar bone wound to heal, and then placing an "implant" on the alveolar bone to fix the denture, and it will take another 3 months Install dentures on this "implant". During the whole process, the patient needs to go back and forth at least three or four times, which takes about half a year. If bone grafting is required, it will take longer. However, with the new bio-3D printing technology, if a patient needs to have dental implants, he only needs to take X-rays in the dental hospital, and the 3D data can be transmitted to the processing factory synchronously. The part is the same as the original, and is tightly combined with the teeth on both sides. Even with intermediate transportation and other processes, patients can have new teeth in a few days. This undoubtedly saves a lot of trouble for dental patients. In addition, with the continuous maturity of 3D printing technology for dental implants, medical costs will continue to decrease. Now many dental patients are reluctant to treat their teeth, mainly because of trouble and high costs. For two reasons, with the resolution of these two core issues, dentistry will welcome more patients.
Of course, the dentist will also become more convenient. When a dentist implements 3d printer dental resin oral implantation, the preoperative design and the fabrication of the implant guide are the key factors affecting the success. Oral 3D printing technology can accurately grasp the implantation site, depth and three-dimensional direction of implants. The computer reads the scanned data of the patient's jawbone, establishes a three-dimensional model of the jawbone, analyzes and measures the information of the three-dimensional surface and any section of the jawbone, and the surgeon can observe and measure the human anatomy from any angle, and conduct preoperative simulation and operation planning.
The cost of dental restoration and treatment is an important factor that dental clinics and laboratories need to consider. Now many foresighted dental clinics and laboratories have introduced sla 3d printer dental digital oral technology to improve efficiency and reduce costs. In recent years, dental restorations based on software design have become popular, and many dental clinics, laboratories or professional denture manufacturers have introduced 3D printing technology. The digital oral technology combined with the 3d dental printer brings the dental industry a high-precision, low-cost, high-efficiency business method, as well as oral data that conforms to the standardized production chain. By combining oral scanning, CAD/CAM design and dental 3d printer, 3d printer for dental lab can accurately and quickly produce a series of dental products such as crowns, bridges, dental models, aligners 3d printed denture. For dental medical institutions, this will greatly improve their work efficiency, and 3d printed flexible denture will greatly reduce labor costs and property costs.
In addition, in the dental orthodontic teeth molds industry, orthodontists generally need to keep the patient's old dental molds for 5 to 9 years, which creates a big storage problem. Many teeth are stored well and can be easily found in the future. , It is really a hassle for dentists, but with the digitization of files, the old dental models can be stored in the form of electronic files; if necessary, the dental molds of the orthodontic teeth model can be 3D printed.
3D printing technology also has a role in the dental industry similar to 3D models in orthopedics and tumor surgery, that is, it is used to simulate, plan the surgical process, or communicate with the patient about the surgical process. This is more convenient for dental surgery, and the possibility of medical disputes is also greatly reduced.
3D printed dentures oral 3D printing technology is considered by domestic and foreign dental experts as an epoch-making milestone and the future development direction of dental technology. With the development of modern technology and the improvement of the system itself, oral 3D printing will definitely be closer to life and make due contributions to the protection of human oral health.
What 3D printing technologies are commonly used in the dental industry?
At this stage, the 3D printing technologies commonly used in the dental industry mainly include: photosensitive resin selective curing technology (SLA), selective laser melting technology (SLM), inkjet printing technology (Polyjet), and metal laser sintering technology (DMLS).
However, it should be noted that each technology is suitable for different dental products. For example, SLA technology is mainly used in the manufacture of dental surgical guides, temporary crowns and bridges, and resin models for lost wax casting. The materials used in restorations such as dental crowns and bridges mainly include dental gold alloys, titanium alloys, cobalt-chromium alloys, and stainless steel. Such restorations require high precision and the shape of the restorations is relatively complex. SLM technology has great advantages in the manufacture of dental prostheses because of its rapid and direct fabrication of precise and individualized complex metal structures. The dental 3d printer companies PioNext DJ-89 technology has many applications in the production of dental models, surgical guides, veneer models, dental aligners, delivery and positioning trays, and related laboratory and business designs for all types of models. The process principle of DMLS technology comes from selective laser sintering (SLS), etc. DMLS technology has been used to directly manufacture porous dental implants of functionally graded titanium materials.
In the future, with the gradual maturity and improvement of 3D printing technology, new technologies will continue to emerge. Some existing technologies will also be replaced by more mature technologies. This is the trend in the development of 3D printing technology in the dental industry.
Recommended information